Sacred Medicine Journey
Costa Rica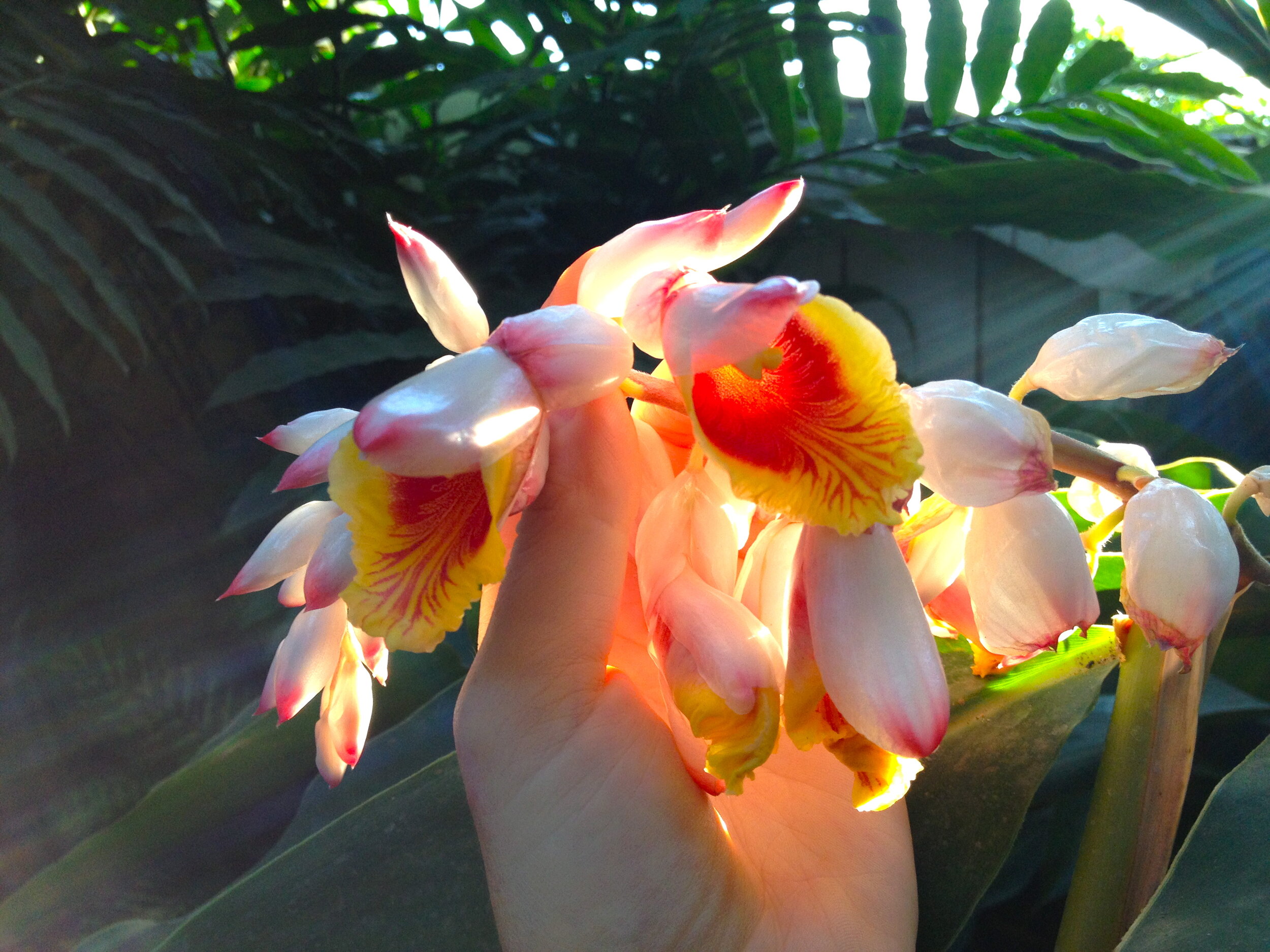 Tropical Plant Medicine in Costa Rica
Join us for an 8 day course in tropical plant medicine, holistic healing, yoga, meditation, healing rituals and sacred circle, located at the beautiful eco-lodge, La Cusinga, in Uvita, Costa Rica. This course is intended to be a healing journey and retreat, honoring our individual and collective path of healing, reconnecting with nature and the magic of sacred circle.

Each day of the course will center on journeying through each of the 7 chakras, moving from the root to the crown, focusing on herbs, yoga, meditation, and ritual to open and nourish each of these sacred centers.

The retreat will include folk healing practices, daily plant medicine classes, meditation, yoga, hiking, plant medicine journeys, medicine making, and rituals. Bodywork, massage, and yoga therapy will be available for those wishing to schedule sessions with our therapists.

Plants we will be working with in medicine making and ritual through the retreat include Cacao, Ylang Ylang, Hibiscus, Guava, Passionflower, Guanabana, Biriba, Ginger, Coffee, Yerba Mate, Coconut, Jasmine, Tilo, Guava, Sugar Cane, Noni, Bitter Melon, Citrus, Jackass bitters, Cinnamon, Turmeric, Hombre Grande, and others. Work with the plants will include a combination of plant walks, medicine making, plant spirit journeys, explorations in ethnobotany, ritual, and connecting to the
spirits of the nature.

To register, fill out the registration form and send it to the address provided.
Course will be limited to 20 people. Full course details will be sent upon registration.

Students will enjoy 3 farm grown (mostly organic) meals a day, all plant medicine classes, optional daily yoga and meditation classes, healing ceremonies, evening fire circles, access to La Cusinga's beaches, trails, waterfalls, natural pools, and beautiful grounds. Healing journeys with the ocean and rainforest will be a part each course, as well as exploring the deep history and spirit held in the land of Central America. For those wishing to stay for a longer period of time before or after the start of the course, please contact La Cusinga for lodging availability.
RETREAT TEACHERS -

Plant Medicine Classes & Journeys with Sage Maurer
(Course Facilitator)

Sage Maurer is the director of The Gaia School of Healing in Westminster, VT. She is an independent practitioner and teacher of herbal healing, plant spirit medicine, shamanism, deep ecology, and ethnobotany. In 2001, Sage founded The Gaia School of Healing in Boston, Massachusetts, and has trained hundreds of apprentices in the past 12 years mainly in New England. Sage holds a degree in anthropology with a concentration in ethnobotany from The University of Hawaii, and a Masters degree in environmental education. Sage has spent 10 years studying tropical plant medicine and ethnobotany in Costa Rica, Hawaii, and the Amazon. Sage is currently teaching year round in Vermont and Massachusetts, where she is offering apprenticeships and workshops throughout the year.


Yoga Teachers - Morning & Evening Classes

Morning Yoga Classes with Nancy Turnquist

Nancy Turnquist is both a devote of the plants, and a passionate teacher of yoga. Nancy has joined Sage in Costa Rica to teach yoga during past plant medicine retreats, and beautifully blends together yoga practice with a personal connection to the natural world. She is a certified teacher of Iyengar Yoga, and has completed a two year Iyengar teacher training program with Patricia Walden with whom she continues to study and work with closely. Nancy travels regularly to Pune, India to study with the Iyengar family and spent a year teaching yoga in Spanish at the Center for Iyengar Yoga in Barcelona, Spain. Nancy welcomes Spanish speakers to her classes. You can read more about Nancy at www.yogaoffering.com.

Evening Restorative Yoga Classes with Alex Bauermeister

Alex Bauermeister believes in the power of yoga as a tool for creating alignment throughout our lives. In this amazing Costa Rica retreat, Alex's classes will help to integrate learning and growth in our bodies, and help us identify and transform areas of resistance. Through restorative and meditative yoga, therapeutic hands-on assists, sense of community, and the breath-taking setting, retreat participants will connect to breath, deep relaxation and inner/outer harmony. Alex's received her yoga teacher training at Kripalu Center for Yoga and Health. She was trained in hands-on assisting at Prana Power Yoga, and is currently in training as a Yoga Therapist with Phoenix Rising Yoga Therapy. No prior yoga experience necessary! You can read more about Alex at www.intrayoga.blogspot.com.

RETREAT LODGING
Included in the cost of the course is dorm lodging, and private rooms can be booked with La Cusinga for those who wish to spend a little extra. Please contact La Cusinga for private cabin rates.

COURSE COST

Sliding Scale from $1350 - $1650
*** Based on what you can afford.
(includes cost of course and all classes, dorm lodging, 3 organic meals a day)

Tuition Payment Using PayPal Deposit - $200 Costa Rica Course (sliding scale) - $1050 + $20 Paypal fee Costa Rica Course (sliding scale) - $1150 + $25 Paypal fee Costa Rica Course (sliding scale) - $1250 + $30 Paypal fee

To contact Sage about the course, you can email her at thegaiaschool@gmail.com or by phone at (617) 838 -8094. Please allow a few days for her to get back to you.
La Cusinga, Eco-Lodge

La Cusinga Eco Lodge in Uvita, Costa Rica is a coastal rainforest eco lodge dedicated to marine and terrestrial conservation and environmental education. Its location on the southern Pacific coast provides guests with sweeping ocean views and a relaxing beach vacation. In addition La Cusinga is part of a private nature reserve that supplies the visitor with an unparalleled look at Costa Rican wildlife and rainforest. The reserve consists primarily of 250 hectares of virgin rainforest that borders thousands of more acres of privately protected forest. On Costa Rica1s still wild south-western Pacific coast, La Cusinga Lodge borders Ballena Marine National Park which was developed to protect the humpback whales that frequent the coast. La Cusinga Lodge was established in order to share the unique site with Costa Ricans as well as international visitors. Besides getting exposure to rural Costa Rican culture and beautiful vistas, visitors have access to highly prolific areas of primary tropical rainforest and unspoiled coast, all conveniently accessible. In 2010 they received 4 out of 5 leafs in the CST Certification.

La Cusinga Ecolodge maintains several trails that wind through the pristine protected rainforest and along the beautiful beaches. From three-hour treks through the forest to short walks down to the beach there are trails for all ages and abilities. On each trail the visitor is sure to get a glimpse of the diverse Costa Rican wildlife. Wildlife at La Cusinga is abundant and you will see many species that may include: morpho butterflies, tree frogs, ospreys, parrots, parakeets, toucans, howler monkeys, bottle-nosed dolphins, hawksbill turtles and the great humpback whale.

La Cusinga Eco Lodge is constantly looking for the perfect balance between the natural and social environment. They are protecting their forest and want to keep it as it is, without harming or changing the delicate ecosystems that are working inside each corner in the jungle and the woods. Finally they are also interested in raising the local families1 wellbeing, because they have dedicated their time and life in this dream.